Gotham Gazette: Council to Examine How City Schools Violate State Phys Ed Law
by Erica Wang
June 16th, 2016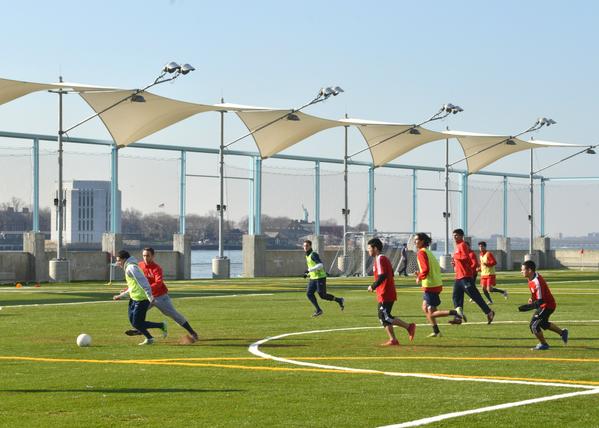 (Photo by NYCParks)
On May 5 City Comptroller Scott Stringer released "Dropping the Ball," an analysis revealing that 28 percent of New York City public schools lack a designated physical education space and 32 percent of schools are without a full-time, certified physical education teacher. In total, there are over 400,000 students in New York City public schools that don't have access to a "full-time, certified PE teacher," "attend a school without a physical fitness space" or "attend a school that does not have access to an outdoor school yard or nearby yard," according to Stringer's report.
Current New York City physical education programming and the city Department of Education (DOE) are not in compliance with State Education Department regulations on physical education. This is often the case in terms of students' time spent in physical education classes and whether they are taught by certified physical education teachers. On Wednesday, the New York City Council will hold an oversight hearing on the issue and consider a bill that would require the DOE to submit a report on the state of physical education in New York City public schools to the Council and also post the report on the DOE website.
The minimum requirement for students' physical education in New York State varies by grade level. Instruction in grades K-6 requires classroom teachers be under the supervision of a certified physical education teacher and that students have at least 120 minutes per week of physical education. But from grades K-3 the students must participate in a physical education program daily while students from grades 4-6 can participate in a physical education program no less than three times a week. Students in grades 7-12 must have physical education three class periods per week in one semester and for two periods per week in the other semester with a certified physical education teacher supervising.
New York State law requires that students in middle school and high school have a certified physical education teacher, however, according to Stringer's report, 230,000 students lack a certified physical education teacher.
While Stringer's office requested information about certified physical education teachers, the number of minutes of physical education programming per week, class sizes, and access to indoor/outdoor space for physical education instruction, the DOE only provided "partial" data, keeping the Comptroller's office from making a "complete analysis," according to the findings. With the partial data the comptroller's office was able to analyze whether schools have full-time certified physical education instructors and whether schools have indoor facilities or access to outdoor facilities where physical education programming can take place.
Stringer's report is also not the first of its kind. Former Comptroller John Liu, Stringer's predecessor, released an October 2011 management audit of New York City elementary schools, finding that of the 31 schools evaluated, every single one was not in full compliance with the State Education Department's physical education regulations. During school visits, officials at 84 percent of the 31 schools were unable to tell the Comptroller's office what the physical education requirements were and 65 percent of the officials didn't know any of the physical education requirements.
Liu's audit and Stringer's recent report point to a persistent systemic issue wherein New York City schools are not meeting physical education requirements. Liu's office madeseven recommendations to the DOE, but while the agency agreed with five of the seven recommendations, it disagreed with two that are now at the root of the City Council bill. According to the audit, the DOE disagreed "with the recommendation to ensure that the DOE adequately monitors schools' compliance with physical education requirements" and didn't directly address the recommendation requiring principals to certify whether or not students are receiving the minimum physical education requirement.
In February, City Council Member Elizabeth Crowley introduced the bill, Intro. 0644, which will be the focus of Wednesday's oversight hearing. A first hearing for the bill, no vote will be taken until the next committee meeting, if the bill is given a vote at all. If it is passed by committee, it would then move to a full Council vote before heading to the mayor's desk for his signature into law.
With its reporting requirements, Crowley's bill is similar to one passed by the Council in 2013. Intro 0925-2012, passed 49-0 (with two excused), requires the DOE to provide data on city arts education programs and, specifically, on if New York State instructional requirements are being met. The bill was signed into law by former Mayor Michael Bloomberg on December 17, 2013 and the first report on compliance with New York State regulations appeared in the DOE's 2012-2013 Annual Arts in Schools report.
Some of the components the new phys-ed bill requires in the relevant report are the frequency and minutes of physical education at each school, whether or not the supervisors are certified to teach physical education, how many certified physical education teachers are providing instruction at the school, and all the designated on-site physical education spaces available and off-site spaces that can be used for physical education by the school. The report must also disaggregate the number of students who are receiving less physical education than the state minimum by race, ethnicity, gender, and whether or not they are English-language learners or receiving special education services.
Since its introduction in February the bill has gained 39 sponsors, including the Chair of the Health Committee, Corey Johnson, the Chair of the Education Committee, Daniel Dromm, and the Public Advocate, Letitia James.
In anticipation of Wednesday's hearing, advocacy groups are already working on revisions of the bill in order to provide more clarity and specificity to what the report submitted by the DOE would be required to cover. Advocates and council members want to ensure that the bill meets its key purpose of making sure the DOE provides useful data about the state of physical education programs in city schools, which will help policy-makers and the general public to be more informed.
Following the bill's February introduction, Comptroller Stringer's May report only strengthened the evidence that there is need for more oversight and accountability regarding physical education programming. Significant shortcomings in terms of certified phys-ed teachers and designated phys-ed spaces at city schools is no shock to those familiar with physical education in New York City schools. Stringer's report shows nearly one third of schools lacking a full-time certified physical education teacher and a third of schools lacking designated space.
Srecko Mavrek, a certified physical education teacher and the President of the NYC Zone of The New York State Association for Health, Physical Education, Recreation and Dance (NYS AHPERD), told Gotham Gazette that he was "not really surprised" by Stringer's report. What Mr. Mavrek hadn't expected was "such a detailed report and being so positive about [the importance of] physical education."
Mavrek was referencing that even though physical education has proven to have a number of benefits for students, it is often still marginalized in discussions about education, overshadowed by other academic subjects like math and reading. Phys-ed teachers are at times not evaluated in the same manner as other teachers, some evaluated relying on how students score on tests in other subjects for which there are standardized exams. Chalkbeat NY reports that "thousands of teachers will be rated in large part based on test scores of subjects and students that they do not teach" because there is no state system for measuring student's physical education learning.
Studies have shown positive effects of physical education on academic success as well as health. A 2009 special report by the New York City Health Department and the Department of Education found a "strong association between fitness and academic success," with students scoring in the top 5 percent on their NYC FITNESSGRAM outscoring those in the bottom 5 percent "by an average of 36 percentile points on standardized academic tests."
The NYC FITNESSGRAM is a tool developed as part of physical education to assess citywide fitness as measured by muscular strength and endurance, aerobic capacity, flexibility, and body composition. On top of this, eleven of fourteen published studiesfrom 1967-2011, analyzing about 58,000 students, found that "regular physical activity is associated with improved academic performance," according to a 2009 research brief by Active Living Research, a children's health advocacy organization.
The same special report by the NYC Health Department and Department of Education found that over 20 percent of New York City public school students were obese. Combined with a CDC report covering 2010-2011, which found that 5.7 percent of K-8 students in city public schools suffer from severe obesity, increasing regular physical activity appears essential – which is why there are state regulations.
But even with this kind of research physical education has not garnered enough funding and support to incentivize fully-fledged programs that meet state standards. The 2014CDC State Indicator Report on Physical Activity shows how far New York State is lagging behind others. The estimate of students in grades 9-12 nationwide participating in daily physical education is almost 30 percent while the rate in New York State is just 18.9 percent. (Across the river, over 45 percent of New Jersey students were reported having daily physical education.)
With the recommendations from former Comptroller Liu's 2011 audit still pertinent, many are pushing for more city accountability to follow state phys-ed regulations, including Kelly Moltzen, the Healthy Schools NY Program Coordinator for Bronx Health REACH.
"We see a really weak accountability system within the principal checklist system," Moltzen told Gotham Gazette, referring to the Principal's Compliance Checklist. The checklist does mention physical education requirements but there does not seem to be much follow up, pointing to a key issue in terms of the chain of command from principals to the city DOE to the state level.
"Even though principals might actually want to support more wellness they're not sure how to do that because of the mandates they're getting from the higher administration, just telling them to submit these testing scores, the academic outcomes," says Moltzen. "There's not enough integration, not enough support from the city administration in helping them structure their physical education and still meet their testing mandates." Moltzen says there is a need for a protocols "requiring principals to certify that their physical education system meets the regulations."
Like many bills the City Council passes, the idea behind phys-ed reporting requirements will be to lead to accountability and improved programming.
Former Comptroller Liu's audit indicated that the State Education Department said the last time a physical education plan had been submitted by the city DOE was in 1982.
"Until we have that actual information it's hard to really say what's happening and what's not happening," Moltzen said. "We haven't been able to get that information, we're just speaking from our own experience."
Research by Dr. Stephen Silverman, the chair of the Department of Biobehavioral Sciences at Columbia University's Teachers College, points to the importance of early motor sill development, which can be aided by proper and regular physical education from a young age. Silverman says that a lack of sound physical education can lead to frustration when young people are asked to perform skills they have not developed and even negative attitudes toward physical fitness. He also acknowledges the connection between physical activity and academic performance.
"If the reports are correct, that kids who are more physically active do better in school, do better on tests, then we want our schools to help children learn the skills so they can feel efficacious to want to participate in the physical activity," said Dr. Silverman, "and if we're not providing the time, we're not providing teachers, we're not allowing them to learn, that's not going to happen."